SCRAP DEALERS near the Agbogbloshie Market in Accra are resisting an evacuation exercise by the Greater Accra Regional Coordinating Council as part of efforts to decongest the place.
Scrap dealers and onion traders at Agbogbloshie are being relocated to the Adjen Kotoku Market Complex prepared for them as part of measures to ease congestion in the central business district (CBD) of Accra.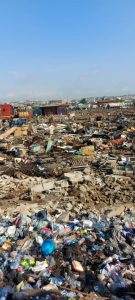 The move also forms part of the "Let's Make Accra Work" project being implemented by the Greater Accra Regional Minister, Henry Quartey.
DGN Online reporter, Nii Adjei Mensahfio who is with the team undertaking the exercise reports that the decongestion exercise had begun early on Thursday morning and was going on smoothly until the team got to the scrap dealers section.
The scrap dealers set vehicle tyres ablaze in the middle of the road in protest against their removal from the spot.
According to DGN reporter: "We saw thick smoke coming from one end of the road and so the security personnel moved into that direction with a fire service vehicle leading the way.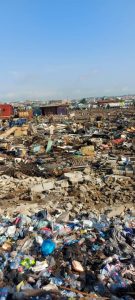 "On getting to the scene, the scrap dealers had gathered at the other side of the road behind the fire and began pelting stones at the fire service truck, forcing it to retreat.
"Military officers then advanced to calm the situation but were also greeted with the same reception.
"Gunshots were also heard being fired from the camp of the scrap dealers – a situation that forced the security forces to respond with warning shots."
This, he disclosed, did not however deter the scrap dealers who were chanting war songs while advancing towards the security personnel.
"The exercise was peaceful until they reached the scrapyard", he stressed.
The scrap dealers argued that they were not served any notice to vacate the place.
Read Full Story