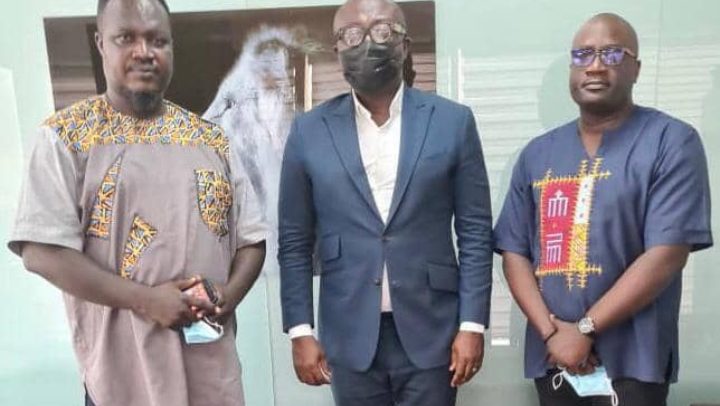 Bola Ray (M) with two members of FOCAP, Enock Agyapong (L) and Kojo Preko
THE FOUNDATION of Creative Arts Professional (FOCAP) has held a series of meetings with some selected music industry stakeholders to find lasting solutions to the numerous problems facing the music industry.
This stakeholder engagement meeting organized by FOCAP aims at collaborating with the music stakeholders in leadership positions to revive the collapsed industry.
According to President of FOCAP, Kojo Preko Dankwa, Ghana is blessed with great talents when it comes to the creative arts industry but due to lack of leadership, we're failing in all aspects of the Industry be it Music, Movies or Fine Arts.
In the past when the gatekeepers were fully active Ghana was in the lead when it came to music and movies but due to one or two reasons these gatekeepers decided to take a back seat and today Ghana is struggling to make any meaningful headway.
Every industry needs gatekeepers in a leadership position to protect and project the industry in the right direction and as an advocacy group, we'll make it one of our topmost priorities.
'Through our engagement with the industry giants like Bola Ray, Abeiku Santana, Rudy Kwakye, KOD, we hope they'll take back the mantle especially now that they're in better positions to lead gracefully,' he said.
"They've done it before and we've also seen the opportunities of locked keys and we can guarantee the industry that if these great men and women accept the proposal and reactivate to unlock the keys the industry will see great success.
As the industry stands now it's just more about the Show than the Biz and that narrative must change.
We all as an industry from Labels, Artists, Actors, Producers, Directors, DJs, Entertainment Journalists, Bloggers, Presenters, Pundits, etc have a role to play to see the success of this great industry.
Respect for all is key as we move to another face of this Industry. #FOCAP #PositiveAdvocacy."
Read Full Story