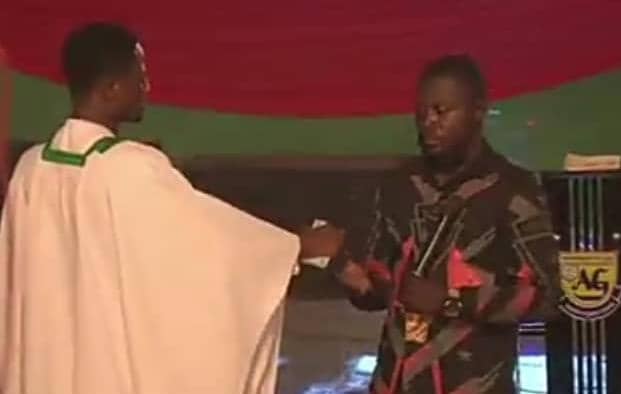 The ex-convict right taking the money from the pastor
An ex-convict who was sleeping on the streets of Koforidua after he was released from prison is turning his life after receiving support from Prophet Albert Asihene Arjaquah.
The ex-convict, William, was released from the Koforidua Prison in the Eastern Region through the Justice for All Program after receiving a prophecy from Prophet Arjaquah when he visited the Prison under the auspices of Prophet Albert Asihene Arjaquah Ministry (PAAM) as part of his annual birthday celebration with the inmates on May 17, 2021.
He donated musical instruments, food, drinks, hand sanitizers, nose masks among others to the inmates and fellowshipped with them during his birthday.
William had served over six years in jail before his released.
He was struggling to reintegrate into society due to family rejection and stigmatization.
He decided not to immediately return to Enchi in the Western North region where he hails but to labor on the streets of Koforidua to save some money to restart life.
William, therefore, slept on the streets of Koforidua since he had no money to rent a room.
Fast forward, one day, William saw posters of Prophet Albert Asihene Arjarquah about a church service event he was organizing in Koforidua.
He decided to attend to testify the fulfilled prophesy about his release from prison before his actual jail term.
Prophet Albert Asihene Arjarquah gifted the Willam GHC1,000 cash during the service as seed capital to facilitate his reintegration.
According to William, who is a cobbler by profession, he went back home to Enchi, used Ghc200 out of the Ghc1,000 to rent a small room, used the rest of the amount to buy equipment and materials needed to start sandals crafting business which he is making a living out of it.
During the December 31st, 2021 Cross over all-night service dubbed Occupy 2022 held at Koforidua Jubilee Park by Prophet Albert Asihene Arjarquah who is also head pastor of Omega House Chapel, Assemblies of God Church- Ghana, the ex-convict came from Enchi to present customized white sandals to Prophet Albert Asihene Arjarquah to appreciate him.
He narrated how the Ghc1000 he gave him has been invested into the sandals crafting business which is thriving.
Prophet Albert Asihene Arjarquah impressed by how the ex-convict has judiciously invested the little support he offered him, dipped his hand into his bag and pulled an unspecified amount of money to him to invest into his business to become an entrepreneur to employ others.
One Nana Busumbru and wife who were at the Cross Over service also gave the ex-convict an unspecified amount of money.
The ex-convict was lost for words when he received another unexpected financial support to reinvest into his sandals crafting business.
Read Full Story