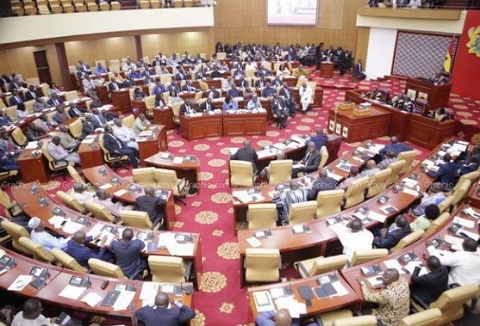 The Executive Director for the African Centre for Parliamentary Affairs, Dr Rasheed Draman says security must not only be provided to members of parliament, but to all Ghanaians.
He thus wants Parliament to ensure that the security agencies in the country are well resourced to protect all Ghanaians and foreigners residing in the country.
MPs on Wednesday called for police protection in their homes following an attack on the MP for Nyiaeso, Kennedy Kankam, and his family last Sunday.
Three gunmen, according to the police, made away with some items, including a 4-wheel drive vehicle.
The unidentified assailants reportedly scaled a wall into the main yard of the MP's residence and used a metal cutter to gain access to his bedroom.
In 2016, Abuakwa North MP, Joseph Boakye Danquah Adu, was stabbed to death at his Shiashie residence in Accra in a similar fashion.
Majority Leader, Osei Kyei Mensah Bonsu on Wednesday, November 6 said the attacks on MPs have left other members worried and feeling insecure.
"If we must be candid with ourselves, so many districts have been created and appropriately so, MMDCEs are provided with security, why can't we do the same for Members of Parliament.
"I think going forward, the country should make a determined effort…being very decisive about this, because we cannot continue to imperil the lives of MPs," he lamented.
"I think the time has come for the state to take a decision on the security of Members of Parliament. The situation is getting worse so I will urge with a humble plea for the Interior Minister…that indeed a decision has to be taken on the way forward about the security of Members of Parliament."
But speaking in an interview with Martin Asiedu-Dartey, on Sunrise morning show on 3FM Thursday, Dr Draman said good security must not only be limited to a specific group of people in the country at the expense of others.
He said: "Just on Sunday a Member of Parliament in Burkina Faso was killed; Members of Parliament from Burkina Faso are visiting our parliament to learn from our experience on many other things.
"They have been here when the news broke that their colleague had been killed by terrorists. The conversation they have been having here is that this is really coming home and that they need to put in place measures that will guarantee the security of everyone otherwise none of them is safe."
He added: "So for me, I will like to be inspired by what happens in other advanced democracies. If you go to the Scandinavian countries, to Sweden for instance Members of Parliament live in ordinary places where every citizen lives. Members of Parliament take the train like everyone. Members of Parliament take the buses like everyone and the whole idea is that they are supposed to represent the people so lets us be part of everyday problems so that if there is anything that needs to be solved at least we appreciate it and then we can work towards solving it."
"MPs are supposed to be representing all of us and if you begin putting security barriers, then it makes representation much more problematic."
"I think that they (Ghanaian MPs) have a bigger platform, they have the power under the constitution, I think they should get our security agencies to do their work and provide all the necessary tools that they need to do their work so that all of us will be secured and our security as a nation will be guaranteed."
Read Full Story