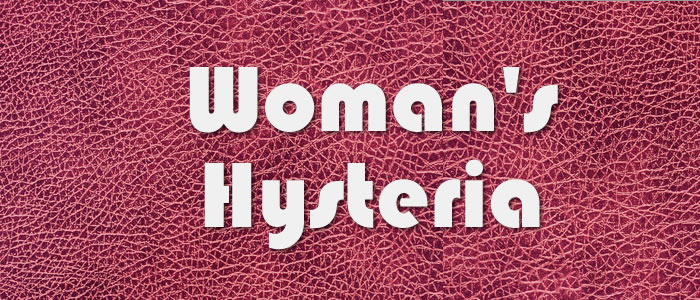 How to Recognize and Stop a Woman's Hysteria
Not all women behave like true ladies; and even, at times, restrained ladies give vent to their emotions and deeply hidden traits of character. Not in all cases it is the error in education. Some women suffer the most real hysteria, which would interest the grandfather Freud himself.
In today's article, we will tell you how to identify hysteria and calm a woman.
Women's hysteria is fairly easy to distinguish from whimsy and manipulation. If she got really angry, and requires a new coat, and if you agree, all the symptoms instantly disappear, you should know - this is just a woman's cunning and manipulation.
If there is a real hysteria, she does not set forth clear requirements and can not even always explain the specific reasons for the emotional breakdown. When the peak of hysteria passes, she is in a depressed  state.
What if it's a Whim or Manipulation?
The best option is ignoring. Fulfilling all her whims and running around her, while she rolls her eyes and blows her lips - it is the right way to strengthen her profitable position in your relationship. Did she achieve what she wanted? So why should not she use the working reception the next time.
What if There Was a Genuine Hysterics?
If you ignore the genuine hysteria, there is a high probability that it will happen again. The manifestation of such a condition is a sign that she has experienced emotional stress,  depression, fears for a long time. In moments of hysteria, it is best to be close to her, to show caring attitude and tenderness, not tired to repeat that everything will be fine. She can not adequately perceive at the time of the attack other arguments, like complex strategies for the future.
How to Act if the Hysterics Took Dangerous Turns?
There are times when things get out of control. A woman can begin to show aggression towards others, scream at children, beat dishes. In this situation, you need to do something completely unexpected - pour it with water, repeat her behavior (while you yourself need to stay sane), properly pinch. The hysterical state is blunted by the effect of surprise.
Are There Ways to Save Her From Hysterical Conditions?
Hysteria is a disease of the nervous system. It can develop against the background of childhood mental trauma, prolonged emotional stress, depression. In such cases, it is best to contact a specialist-psychologist. But even between visits to the doctor she will need your support and care. Try to find out carefully what troubles her in your relationship and in herself. Help her get rid of depressing fears.
Together, the two methods will help you to get rid of hysterics forever, or at least suspend triggers of seizures.
In Conclusion
If you use our tips in practice, and not just read them, you'll be surprised how easy it is to defeat women's hysteria. It's not such a terrible enemy as they say about it. It's just that most men do not know what to do about it. It is easier for them to simply either submit to a woman in a hysterical state, or respond with aggressive behavior. Both options lead only to one final - intensification of tantrums and frustration in the relationship.
But if our article did not help you deal with the problem and your girlfriend continues to systematically break down your nerves with awful screams, well ... maybe it's time to visit  one of the Russian dating website and finally change your life?
Read Full Story