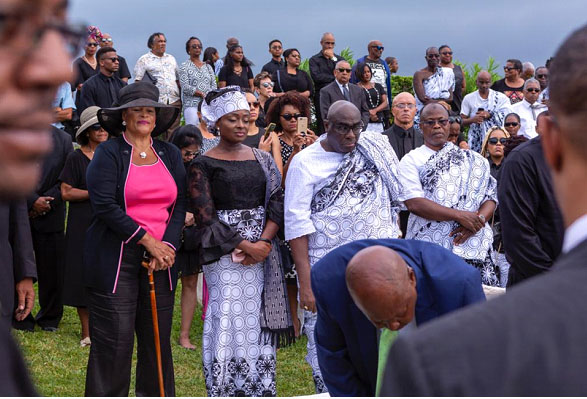 Matilda Alomatu Osei-Agyeman, Papa Owusu-Ankomah and Mohammed Habib Tijani paying their last respects to the late Dr. Teye-Botchway
Ghana's Consul General to Bermuda, Dr. Leonard Teye-Botchway, who passed away on 3rd September 2011, was laid to rest at a celebratory service in Hamilton, capital of the Island nation.
Dr. Teye-Botchway — a Consultant Ophthalmic Physician and Surgeon — served as Ghana's Honorary Consul General to Bermuda from 3rd July 2019 until his demise. He was the first and only Honorary Consul from an African Nation on the Island.
A Deputy Minister for Foreign Affairs & Regional Integration (MFA & RI), Mohammad Habibu Tijani (MP), led an eight-member delegation comprising Papa Owusu-Ankomah, Ghana's High Commissioner to the UK and Ireland; Ms. Doris Brese Director/Europe Bureau, MFA & RI; Mrs. Matilda Alomatu Osei-Agyeman, Minister/Head of Chancery at the High Commission, London; and other senior officials of the Ghana High Commission in London and the Foreign Ministry of Ghana.
Also, Papa Owusu-Ankomah presented customary drinks and cash to the family of Dr. Teye-Botchway.
A key highlight of the funeral service held at the Bermuda First Church of God and attended by residents of the Island from various backgrounds was the presentation of a posthumous award to Dr. Teye-Botchway on the authority of President Akufo-Addo and signed by the Minister for Foreign Affairs, Shirley Ayorkor Botchwey (MP), which was read and presented to the spouse of the late Honorary Consul – Mrs. Ronita Teye-Botchway.
Read Full Story