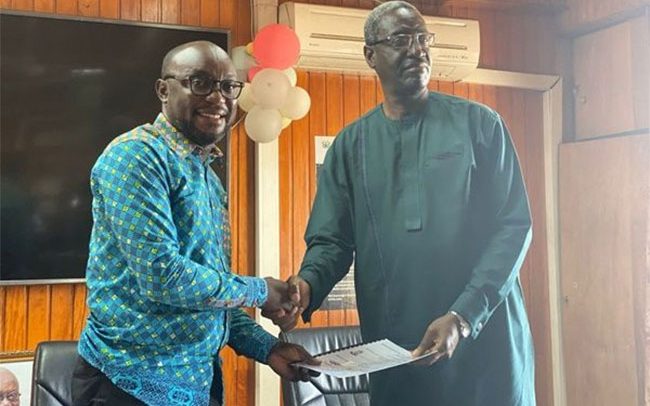 Kingsley Agyemang exchanging the documents with Nana Kwasi Agyekum Dwamena
The Ghana Scholarships Secretariat and the Office of the Head of Civil Service, have signed a Memorandum of Understanding (MoU) aimed at enhancing the capacity of civil servants.
The agreement, a strategic directive of Vice President, Dr. Mahamudu Bawumia, forms part of efforts by the government to strengthen institutions in Ghana.
Signing the agreement yesterday on behalf of the Scholarships Secretariat, the Registrar, Kingsley Agyemang said based on the directive of Dr. Bawumia, the Secretariat was signing the MoU to help ensure the training of Ghanaian workforce.
He added that as the supplier of the Human Resource requirement of the government agencies, it is important that the Office of the Head of Civil Service conduct their duties in the most professional manner, especially taking into consideration the role of Continuous Professional Development (CPD) to every organisation.
Mr. Agyemang disclosed that the agreement will ensure that qualified civil servants are sponsored to pursue Diplomas, Bachelors, Masters and PhD programmes.
"Dr. Bawumia believes this training is very important because as part of efforts to make our institutions stronger, we cannot forget the people i.e. the human resource aspect. It is therefore important that we put in place measures to help build on their capacities," he said.
Mr. Agyemang said once these civil servants are upgraded academically; it can go a long way to boost their confidence and help in productivity as well.
Head of the Civil Service, Nana Kwasi Agyekum Dwamena, for his part, commended the Vice President for the initiative and said the development of any country lies mostly on its public and civil servants.
"A lot is changing in this world and as such we are bound to encounter a lot of challenges. So I find these collaboration very important because it will help us address these challenges," he stressed.
He urged all civil servants to apply when the application opens and assured them that the process will be transparent for all.
The programme, which is expected to take off next year, will give scholarships to some 100 civil servants annually.
Beneficiaries will be bonded to serve for a minimum of two years before exiting the service after the sponsorship.
The Head of the Civil Service is also expected to undertake periodic monitoring of the programme in line with established guidelines on studies.
By Gifty Ama Lawson
Read Full Story