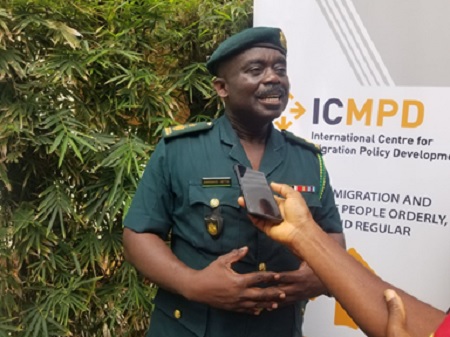 Supt. Michael Amoako-Atta
The Ghana Immigration Service's (GIS) new Strategic Plan took another leap yesterday when stakeholders comprising the Ministry of Foreign Affairs and Regional Integration, the Attorney General's Office, the Boundary Commission among other sister security agencies undertook an appraisal of the document.
The engagement enabled the Service to receive inputs towards finalising the document.
The Strategic Plan is an institutional document which seeks to guide the aspirations of the GIS to enhance its mandate.
The Ghana Immigration Service new seven-year Strategic Plan, which guides the Service's policies and programmes, will intensify the fight against terrorism, which clearly is raging next-door in Burkina Faso and beyond.
The document is a framework for a new training regime for officers along the borders to fight terrorism.
According to GIS, the Strategic Plan will also concentrate on improving the intelligence gathering skills of officers along the borders in the fight against terrorist attacks.
Speaking to journalists about the draft of the new GIS Strategic Plan (2023-2029), the Head of Public Affairs of the GIS, Supt. Michael Amoako-Atta emphasised that the new Strategic Plan, which is being funded by the government of Denmark under the framework of the Strategic Border and Migration Management project (SMMIG), will refocus on the training component on border security.
"Even though we are yet to launch our GIS Strategic Plan, a major component of the plan refocuses on the training of our officers stationed at the border areas. This focuses on improving the skills and equipping the officers in handling border terrorism.
The service, as a matter of urgency, has deployed border patrol officers and intelligence officers to the Northern Region and other border areas with the support of other security agencies to ensure our borders are safe," he said.
Supt. Amoako-Atta further noted that "with the increasing terrorist attacks within neighbouring countries, the GIS engagement forum will dwell on discussion with the various security analysts and recommendations which will be factored into the drafting of the Strategic Plan to strengthen the operational capacity of the service in the management of migration and terrorism," he added.
Head of Office, International Centre for Migration Policy Development (ICMPD), Amala Obiokoye-Nwalor, in her remarks, said the centre since 2016 has been supporting the GIS in its strategic planning process which witnessed the implementation of the just expired 2018-2022 Strategic Plan.
Comptroller General of Immigration, Mr. Kwame Asuah Takyi, in his closing remarks, lauded the International Centre for Migration Policy Development for facilitating the development of the new Strategic Plan (2023-2029) under the "Strengthening Border and Migration Management in Ghana (SMMIG) Project."
"The Ghana Immigration Service is committed to stakeholder engagement as a continuous and step-by-step process. It might be difficult to have absolute agreement on all issues, but we can make the greatest effort in trying to ensure that key concerns and important suggestions are documented and considered in the finalisation of the Strategic Plan," he said.
BY Prince Fiifi Yorke 
Read Full Story