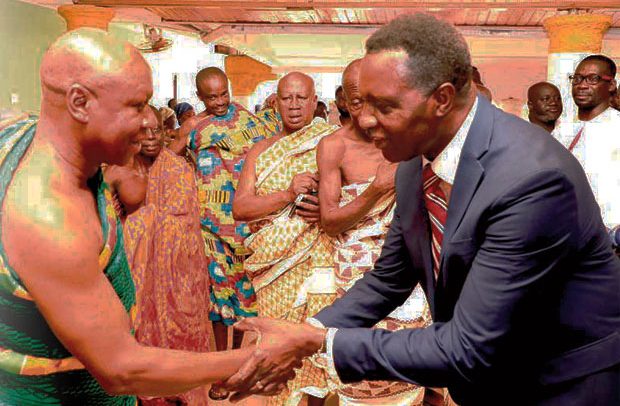 Dr. Adutwum paying homage to Nana Bosomprah
The Omanhene of Goaso Traditional Area, Nana Kwasi Bosomprah, has urged the Education Minister, Dr. Yaw Osei Adutwum to aspire higher.
According to him, the sector minister has innovative ideas for running a just government.
"As the NPP internal election approaches, with aspirants looking for ways to reach out to their constituents for support, it is critical that they get creative with their campaigns in order to reach voters as effectively as possible," he added.
During a visit to his palace, Nana Bosomprah said, "You have the ideas to govern this nation, so kindly share with your colleagues seeking to become President because their campaign messages are not convincing enough."
The minister had paid a courtesy call on the Omanhene as part of his working visit to the Ahafo Region.
Nana Bosomprah urged Dr. Adutwum to make himself available to any aspirant who wanted to tap into his knowledge, claiming that his vision for the education sector was enthralling.
"You are everything we need as a country to progress, and it is unfortunate that you are not running for office despite your knowledge and innovative ideas," he told the minister.
The paramount chief continued, "According to what you just said, you are above the ministerial level, and I believe you should hold a higher position."
Nana Bosomprah, however, urged the government to continue investing in educational infrastructure.
At Achirensua, the Akyempemhene, Nana Adusei-Poku Konkonko, also praised the minister for his enormous contribution to Ghanaian education, noting that his appointment as Deputy Minister and subsequent elevation to substantive Minister, Dr. Adutwum has been a champion of quality education.
He was especially excited about Dr. Adutwum's leadership in the construction of a new dormitory and renovation of Achirensua Senior High School's Science Resource Centre.
The chief requested a new school bus to replace the current one, which is in poor condition, and also stated that the traditional council had designated land for the establishment of a university, urging the minister to take action to make his vision a reality.
The minister, in his response, thanked the traditional rulers for their kind words and gestures, and pledged the government's commitment to continuously address challenges in the education sector.
According to him, President Akufo-Addo's administration is determined to build a strong education system that will provide quality education for national development.
The minister said investments in education to improve teaching and learning in schools will continue unabated.
At the Kukuom Agric Senior High School, Dr. Adutwum pledged to work with the contractor on the Kukuom Agric SHS dining hall project to get it completed on schedule for the benefit of the students.
He also promised them more labourers to work on their farm so that they could produce their own food as agriculture students, to supplement the government's efforts to feed them.
The minister announced that a six-storey teachers' bungalow would be built soon to address the school's perennial accommodation issues.
He advised the students to be innovative as agric students in order to contribute meaningfully to the development of the agricultural sector.
Some of the schools visited by the minister are Ahafoman Senior High Technical School, Akrodie STEM High School, Serwaa Kese Girls SHS, and Fawohoyeden Youth Leadership and Skills Training Institute.
The minister was accompanied on the tour by the Ahafo Regional Minister, George Boakye; Executive Director of the Centre for National Distance Learning and Open Schooling, Nana Gyamfi Adwabour; National Teaching Council Registrar, Christian Addai Poku; NaCCA Director General, Prof. Ernest Appiah; and Free SHS National Coordinator.
By Ernest Kofi Adu
Read Full Story