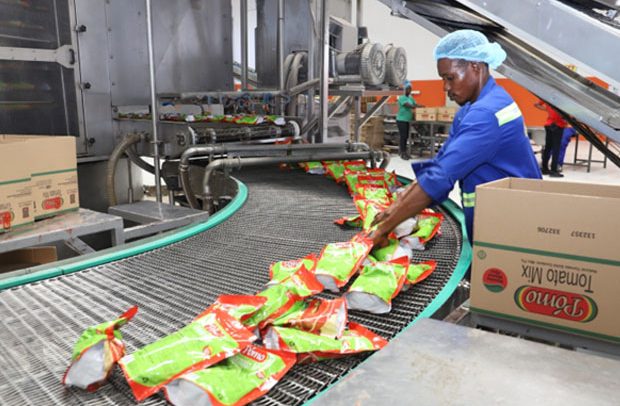 A section of the new GB Foods factory
President Akufo-Addo wants the private sector in the country to expand its operations in the interest of the nation.
He believes this will to grow the economy and create the much-needed jobs urgently needed by the youth.
That, he said was because "the government I lead is a natural cheerleader for the private sector."
This was when he commissioned an expansion of GB Foods tin tomatoes producing factory at Tema yesterday.
President Akufo-Addo said he is a natural supporter of the private sector and he is determined to continue its efforts aimed at creating an enabling environment for the sector to thrive.
He said the expansion of the facility "will not only increase the manufacturing capacity of the company but will also lead to the creation of more Jobs for the people of the locality."
"I am excited by the company's decision not only to source domestically, its raw material base but also to venture into the establishment of industrial farmlands for the processing of tomato concentrate", he said.
"The goal of my government remains constant, we aim to unlock the full potential of the private sector and the Ghanaian sense of enterprise to create jobs and prosperity for all Ghanaians and to position Ghana as the preferred investment destination" the President added.
The history of GB Foods begun with the Gallina Blanca brand, founded in Barcelona in 1937.
Today, with a turnover of around €1.3 Billion and a staff of around 3,600 employees, GB Foods is present in more than 50 countries in Europe and Africa.
They include Spain, Italy, Germany, France, Belgium, the Netherlands, Sweden, Finland, Nigeria, Ghana, Algeria, and Senegal, among others.
By Charles Takyi-Boadu, Presidential Correspondent
Read Full Story