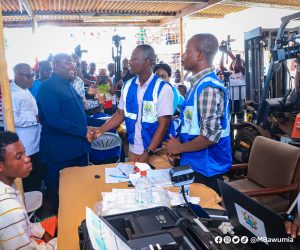 Vice President Mahamudu Bawumia has urged parents and guardians to refrain from registering their underage children in the ongoing Limited Voter Registration exercise being carried out by the Electoral Commission.
The Vice President emphasized that both parents and children could face legal consequences for attempting to enter the voter roll before they are eligible.
During his visits to Registration Centres in the Greater Accra and Central Regions on Tuesday, September 26, 2023, Dr Bawumia expressed concern over reports of minors being registered across the country.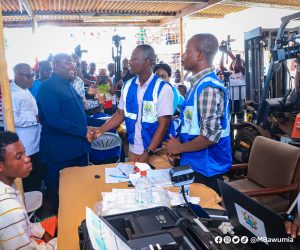 He stated that such actions not only violated the law but also pose a risk to the lives and future prospects of these children.
"If underage children are registered with incorrect ages, it will impact them throughout their lives. It means that they may retire before the appropriate age, miss out on youth-specific policies or programs, and face other unforeseen consequences," Dr Bawumia warned.
In order to ensure a clean and credible voter register for the upcoming 2024 general elections and beyond, Dr Bawumia suspended his nationwide engagement with NPP Delegates on September 23, 2023.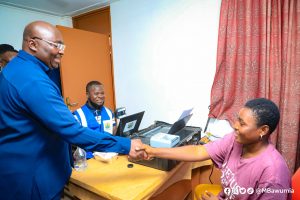 He urged all stakeholders, including parents, guardians, new registrants, and political parties, to cooperate with the officials of the Electoral Commission in order to have a smooth and incident-free registration exercise.
"The Constitution guarantees the right to vote for every Ghanaian of the appropriate age and sound mind. I therefore urge all stakeholders to work together to produce a register that we can all be proud of," Dr Bawumia stated.
He also extended his gratitude to the Electoral Commission officials for their hard work despite the initial challenges. The Vice President's visit to the Registration Centres aimed to emphasize the importance of a fair and transparent registration process in order to maintain the integrity of the electoral system.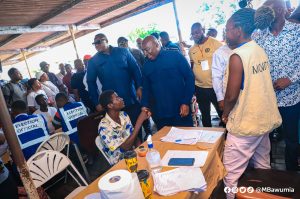 The ongoing Limited Voter Registration exercise will run until October 1st, 2023. The Electoral Commission has set up numerous registration centres across the country to facilitate the registration process for eligible voters.
The post Avoid Registering Minors On Voter Roll- Bawumia Cautions Parents appeared first on DailyGuide Network.
Read Full Story