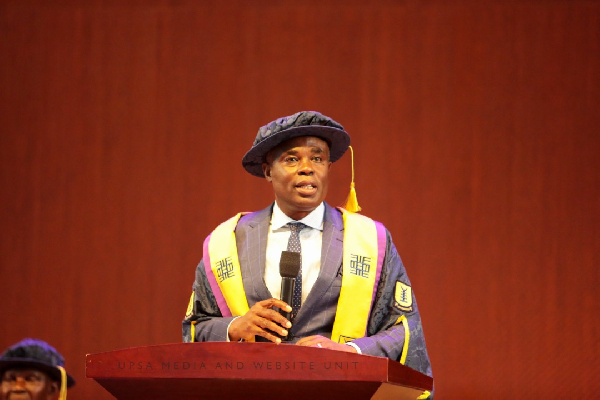 Professor Abednego Feehi Okoe Amartey, Vice-Chancellor of the University of Professional Studies, Accra (UPSA) has advocated for a New Public Sector management paradigm in the public sector in Ghana.
He said a quantum leap from an inefficient public sector to an efficient and high performing public sector could be achieved by the application of marketing philosophy; stating that this assertion could be substantiated by credible evidence from many developed and other developing countries.
"To enable easy application of the marketing philosophy in the public sector, I am proposing a new public sector management paradigm," Prof Amartey said over the weekend at the UPSA- Chartered Institute of Management Ghana (CIMG) Public Lecture in Accra, on the theme: "Public Sector Marketing: A Catalyst for National Development".
Prof Amartey said such a new public sector management paradigm must-have features such as a system with a decentralised control of resources, which explores other service delivery models to achieve better results.
Others were a strong focus on financial control, value for money and increasing efficiency; a command and control mode of functioning, identifying and setting targets and continuous monitoring of performance and autonomy of senior management.
He said such a new public management paradigm must have a system that enforces compliance and performance audits through transparent means to review accomplishments, setting benchmarks, using protocols to ameliorate professional behaviour and keeping the scorecards objectives.
The Vice-Chancellor recommended the features of the new public management paradigm to include a more excellent customer orientation and responsive culture and increasing the scope of roles played by non-public sector providers.
Others are deregulating the labour market, replacing collective agreements to individual rewards packages at senior levels combined with short term contracts and incentives.
Prof Amartey said the new system should discourage the self-regulatory power of the professionals and handing over the power from individuals to management.
He mentioned the introduction of corporate governance, adding a board model of the functioning and concentrating power to the strategic core of the organisation.
He also advocated for a system where marketing and stakeholder management were crucial components of the new public management model.
Read Full Story