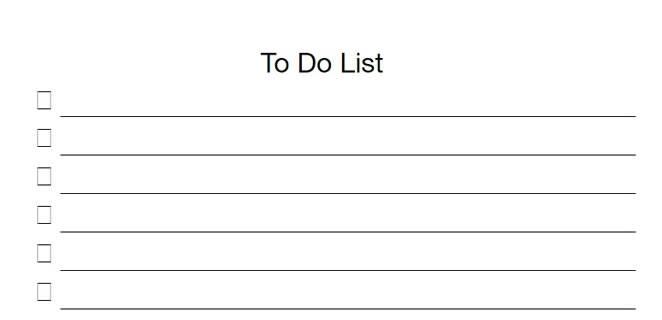 Learn about useful aspects of a simple to do list
When your life is full of chores, errands, tasks and assignments you know you need some planning and proper time management. Many people may not see a simple to do list as a perfect time management tool, but it does have certain psychological advantages. This way we memorize information better and get some control over our schedule. And it doesn't even matter if we complete all the tasks we've planned. Here's some to do list facts and writing advice you may find useful.
YOU MEMORIZE WHAT YOU'VE WRITTEN DOWN BETTER
Writing a to do list is much like making notes when you read a book or prepare for your custom admission essay writing. By writing things down you process information, summarize it mentally and this is exactly what helps you memorize it much better. At the same time, notes of this kind don't require any professional writing skills: unlike some paper writing, they are for you only.
Think of what you do when you are composing your to do list. You consider your tasks, analyze them and arrange them in order of importance. Your brain determines what you must memorize in the first place. The more you work on a piece of information in your mind, the better you memorize it. That's exactly why we sometimes remember every little thing we need to do without even having another look at our to do list.
PLANNING TURNS ABSTRACT GOALS INTO SPECIFIC TASKS
For most people, the problem is not about keeping themselves busy throughout a day, but about completing those big projects thanks to which they get real satisfaction from their efforts invested. As a rule, such projects are some abstract goal we want to reach in a few weeks or maybe months. But the real problem is it's nearly impossible to reach a goal like that unless you divide it into a few separate and very specific actions that you will be able to perform day after day, week after week, month after month.
A simple to do list will help you to clearly define all the actions you need to perform, all the specific steps you have to take to get prepared for work and complete your long-term project.
TO DO LISTS HELP YOU TO FILTER OFF UNNECESSARY THINGS
The things that keep you from completing every task you've planned for your day may be numerous. An endless flow of emails, numerous calls, and unexpected meetings may take all your time. But if you practice writing a to do list, you know you have to find some time for these things you've planned in your busy schedule, no matter what. By the way, keeping a journal is a great way of dealing with all kinds of unexpected and unplanned situations. Plan things a few weeks ahead, when you know there's still some time in your schedule. Sometimes while doing this you may notice that your schedule is already packed. This means that it's loaded with numerous small and less important tasks that make you put more important projects off till later. Perhaps it's time to rearrange your working day.
Even in case your to do lists are not perfect and you still failed to complete some tasks, you know you've done some useful work. You've been able to analyze and structure your schedule, find less important things that take a lot of your time, plan certain steps to reach your goals. And this is what's much more important than just striking off something in your list.
Read Full Story