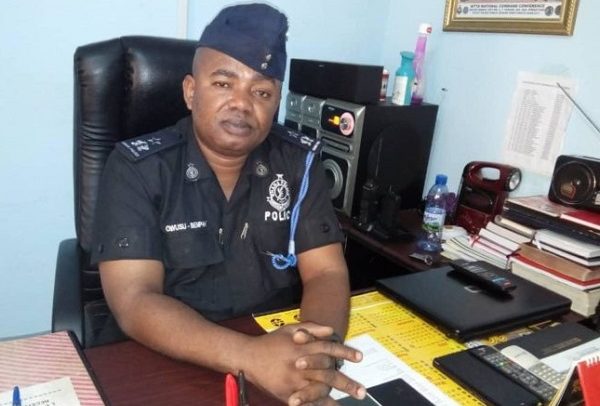 Chief Superintendent Joseph Owusu Bempah
THE TEMA Regional Commander of the Motor Traffic and Transport Department (MTTD) of the Ghana Police Service, Chief Superintendent Joseph Owusu Bempah, has served notice that more recalcitrant drivers will be prosecuted this year.
According to him, his outfit would invest more efforts in law enforcement than educating drivers on road traffic regulations.
He believes that cracking the whip on recalcitrant drivers will help minimize road accidents and maintain decency on the roads.
Touching on offences the police will be prosecuting, the Commander mentioned offences such as driving vehicle with worn-out tyres, driving or riding without license, driving or riding with expired documents, riding without helmets, driving without seatbelts, talking on phone whilst driving and driving defective vehicles.
He further stated that his outfit would arrest and prosecute offences such as unlicensed vehicles, speeding, drunk-driving, overloading vehicles, vehicles with worn-out tyres and non-roadworthy vehicles.
Others are non-wearing of crush helmet, unauthorised parking, unlawful loading of passengers at bus stops, leaving broken down vehicles in dangerous positions, non-compliance with retro reflectors and advance warning devices, non-compliance with motor vehicle compulsory insurance, unlawful change of lane and overtaking of vehicles, among others.
The Commander who made this disclosure in an interview with DAILY GUIDE explained that a few drivers appreciate the countless education on road regulations. He noted that most drivers continue to flout rules regarding the use of the road.
Chief Superintendent Owusu Bempah has therefore advised commuters to report speeding, reckless and drunk drivers for necessary action to be taken against them.
He further advised drivers to respect road traffic regulations in order to reduce the carnage on the road.
Caption: Chief Superintendent Joseph Owusu Bempah, Tema MTTD Commander.
From Vincent Kubi, Tema
Read Full Story